We are seeking prospective developers with experience and resources to develop
multiple unit operations in both the United States and Internationally.

• Full Service - Casual Theme
• 3,000 sq. ft. - 7,000 sq. ft.
• Deep Dish Pizza, All Natural Flatbreads, Appetizers, Steaks, Pasta, Chicken, Sandwiches, Salads, Desserts, Full Liquor Offerings, Beer, Wine, & Beverage.



FOR UNO INFORMATION CONTACT:
Fred Houston
Vice President - Franchising
phone (617)218-5271
Email Fred.Houston@unos.com

• Net worth of $1 million per restaurant
• Liquidity of $750,000+
• Initial Fee - $40,000 per location
• Area Development Fee - $10,000 per location
• Royalty - 5% of Gross Sales

• Fast Casual - Marketplace
• 500 sq. ft. - 3,000 sq. ft.
• Deep Dish Pizza, All Natural Flatbreads, Fresh Made Panini's, Grab 'n go Wrapped Sandwiches & Salads, Soups, Snacks, Breakfast Sandwiches, Coffee & Full Assortment of Beverages.
• Go to: www.unoduego.com



FOR UDG INFORMATION CONTACT:
Louis Miaritis
SVP - Development
phone (617)218-5404
Email Louis.Miaritis@unos.com

• Net worth of $600,000 per restaurant
• Liquidity of $300,000+
• Initial Fee - $25,000 per location
• Area Development Fee - $5,000 per location
• Royalty - 5% of Gross Sales

There are over 150 Uno Chicago Grill restaurants located in 24 states, the District of Columbia, Puerto Rico, South Korea, United Arab Emirates, Honduras, Kuwait and Saudi Arabia.

Take a virtual tour of five of our locations, including our new UNO Dué Go fast-casual unit, and see how we are creating a unique and inviting dining environment.


View
photos
of three of our newest Uno Chicago Grill designs.

ABC NEWS NIGHTLINE: 2/10/2012
Uno's New Approach to Casual Dining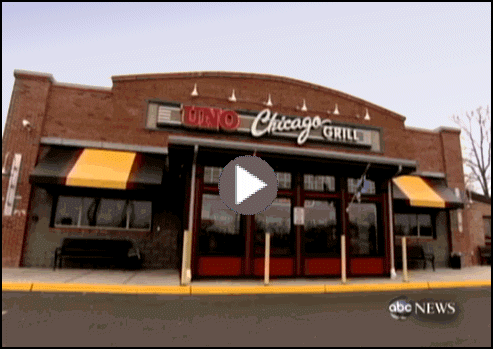 Copyright© 2012 ABC News Internet Ventures.




February 01, 2012
UNO Sends Pizzas to US Forces Overseas for Super Bowl


Copyright© 2012 VOA News.





Uno Chicago Grill® Launches Uno Dué Go™
Extends Brand to Fast Casual Category
• 2008 - Named America's #1 Healthiest Chain Restaurant by Health Magazine; Named #4 of the 10 Best Family Restaurant Chains by Parents Magazine; Roasted Eggplant & Feta Flatbread Pizza named Guilt-Free Favorite Pizza by Prevention Magazine.


• 2006 - Restaurants & Institutions "Consumers' Choice in Chains" survey ranks Uno the nation's No. 2 U.S. franchised restaurant; placing Uno above competitors such as Applebee's, T.G.I. Friday's, Bennigan's, Ruby Tuesday and Buffalo Wild Wings. Uno was also ranked No. 1 in "Convenience," "Food Quality," and "Value" among U.S. franchised restaurants.


• 2006 - Franchise Business Review names Uno one of Americas Top 25 Food Franchises based on a 2006 satisfaction survey.


• 2005 - Uno sets record for franchisee communication ratings - overall communication approval jumps 30% year-over-year and approaches perfection.


• 2005 - New hospitality initiative and employee outreach program reduces guest concerns system-wide by more than 40% in just five months.


• 2004 - Entrepreneur Magazine awards Uno No. 1 ranking in Full-Service category for the second straight year.


• 2003 - Uno declared One of the 20 to Watch by Franchise Times and honored by Entrepreneur Magazine as the Number One Full Service Concept in 2003.

Click Here For A Sampling of the Many Services Provided By Uno to It's Franchisees

Click Here For Our Franchise Fact Sheet.




We welcome every opportunity to speak with and meet qualified parties.


FOR MORE FRANCHISING INFORMATION COMPLETE THIS ONLINE INFORMATION Request Form.
For all other inquires, see our Contact Us page.